2010 MKYRA Royalty Information
2010 MKYRA Royalty Application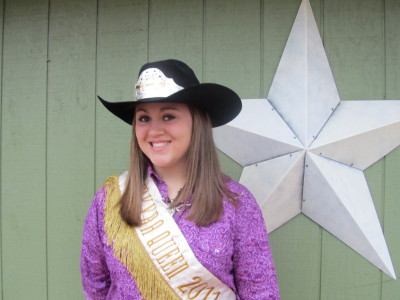 2012 MKYRA Queen
Cheyenne Dana
CHEYENNE N. DANA AGE 15 ATTENDS SCHOOL AT EAST BUCHANAN HIGH SCHOOL. GOALS INCLUDE: WINNING THE YEAR END AWARD FOR POLES AT MKYRA, RODEOING IN THE MHSRA AND QUALIFYING FOR NATIONALS, ATTENDING COLLEGE TO BECOME A CHIROPRACTOR FOR HUMANS AND EQUINE. RODEOING AT THE PROFESSIONAL LEVEL.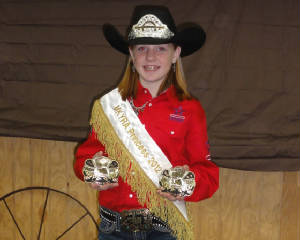 2012 MKYRA Princess
Caitlyn Viets
Caitlyn Viets is a 7th grader at Pleasant Lea Middle School in Lees Summit. She participates in junior girls goat tying and breakaway roping on "Blue" and competes in barrel racing and pole bending on "Polly". She is also a student member of the MKYRA Board. Caitlyn loves the competion and friendships that rodeo brings and is very proud to represent the Missouri Kansas Youth Rodeo Association as "Princess" for the 2011-2012 season.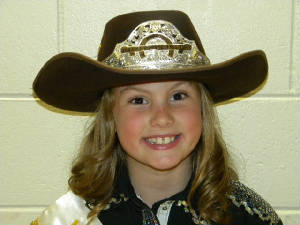 2012 MKYRA Little Miss
Anna Brisbane
Anna Brisbane is a 3rd grader at Dogwood Elementary School in Kearney, Missouri. She participates in Pee Wee Barrel Racing, Pole Bending and Goat Tail Untying. She loves MKYRA - especially the friends and prizes. Outside of rodeo, she participates in Girl Scouts and dance. Anna hopes to be a veterinarian one day, like her dad.